Extras worth over $2,400
Purchase a BERNINA 790 PRO and receive more than $2,400 in FREE GIFTS*:
XL Machine Suitcase
XL Embroidery Suitcase
BERNINA Embroidery Bundle
Maxi Hoop
Coupon Code for BERNINA 7 Series Core Skills Course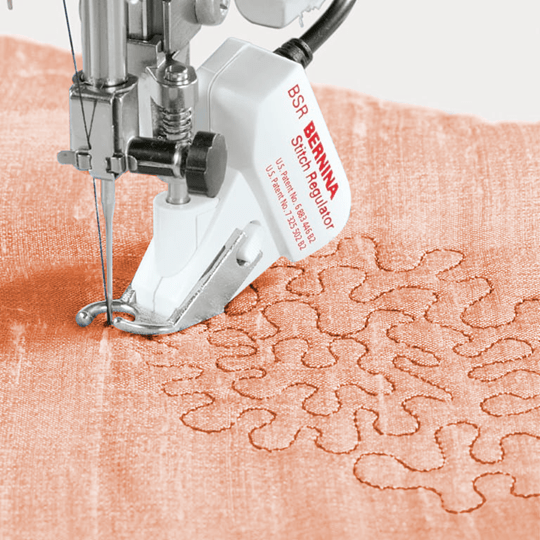 Love the BERNINA innovations
Achieve finest stitching results
Stitches are kept consistent
Assistance with free-motion sewing
The BERNINA Adaptive Thread Tension provides ideal thread tension for each and every stitch type, in any variation. The included BERNINA Stitch Regulator foot assists you with free-motion sewing and quilting with a straight or zigzag stitch, ensuring stitches of the exact same length even at variable sewing speeds.
Sew any material like a PRO
Enjoy superb fabric feed
Optimum visibility while sewing
Easy engaging
The BERNINA Dual Feed tames hard-to-manage fabrics providing superb fabric feed and optimum visibility while you sew. Easy to engage when needed, the BERNINA Dual Feed tucks completely out of the way when it's not required. 
PRECISE LIKE A PRO!
Next generation stitch precision
Even faster embroidery
Superior stitch quality
The B 790 PRO features the next generation BERNINA stitchprecision2  Technology that makes your sewing, quilting and embroidery experience quieter, more precise, and joyful. Swiss innovations allow for superior stitch quality and up to 33% higher SDT embroidery speed.
PINPOINT LASER
Works in every needle position
Indicates the exact needle entry point
Next generation precision
Enjoy pinpoint precision by seeing exactly where the needle will enter the fabric in every needle position. The BERNINA Pinpoint Laser marks your start and travel points as you sew and embroider.
THREAD THE NEEDLE AUTOMATICALLY
You are ready for sewing in a breeze
Simply push a button
Watch the machine thread the needle
The Automatic Needle Threader helps you get started with a different thread. From a needle size of 70, the upper thread can be automatically threaded into standard sewing needles and embroidery needles. Conveniently and quickly, every time!
 
PLACE YOUR DESIGNS TO SUIT YOUR PROJECT
Define four points on the fabric
Place the design proportionally
Or morph to fit within the boundary
With the new 4-Point Placement the positioning of your embroidery or quilting design is extremely easy and precise. This new function allows you to place your designs to precisely suit your project. Simply define four points on the fabric in the hoop and the design is placed proportionally or can be morphed to fit the created boundary.
MONITOR YOUR EMBROIDERY ON THE SMARTPHONE
With the BERNINA Stitchout App
Real-time status updates remotely
Transfer designs from or to your V9 software
Since WiFi is enabled on the B 790 PRO, you can transfer designs from your BERNINA Embroidery Software 9 (optional) directly to the machine, or vice versa. And thanks to the new BERNINA Stitchout App, the embroidery process can be monitored on your smartphone remotely. The in-app notifications and real-time status updates will make your embroidery more convenient.
CUSTOMIZABLE QUILT DESIGNS
Quilt like a PRO
Modify stitches per inch
Unlimited scaling
The new Customizable Quilt Designs (.bqm) bring the functionality of professional longarm quilting to your embroidery machine. Unlimited scaling possibilities, the ability to modify the stitches per inch (SPI) and enhanced quilt securing functions enable you to achieve perfect computerized quilting on your embroidery machine.
CREATE YOUR INDIVIDUAL STITCH
...with the Stitch Designer
Edit existing stitch patterns
Easily move the stitch points with the multi-function knobs
Create your own stitches by drawing your ideas right on the touch screen. With a touch or turn on the multi-function knobs, the B 790 PRO turns your design into a stitch pattern or alters existing stitches as you wish. Save your very own stitch creations to expand your stitch library.
A SCREEN BEYOND IMAGINATION
Extra large 7" color touch screen
Easy navigation with large symbols
Centrally & optimally located
The extra large touch screen allows you to operate the machine comfortably. Get direct tips and tricks or have short built-in tutorials show you important work steps. 
ALIGN DESIGNS
AS YOU WISH
Both horizontally and vertically
Center, left, right, top, bottom
Align multiple lettering lines
Easily align and distribute embroidery designs horizontally and vertically. Use Multi-line Lettering and Text Alignment to personalize your text placement. With the line break, lettering of up to 10 lines is possible.
YOU IMAGINE IT.
YOU SHAPE IT.
Combine default formations
Arrange embroidery patterns
Any formation is possible
Multiply designs with one click and arrange them in a desired formation. Whether in a circle, square or heart, with the integrated Shape Designer new and unique embroidery designs emerge.
 
MORE EDITING POSSIBILITIES
Embroider endlessly
Group & ungroup designs
Rearrange designs
Undo or redo steps while editing or combining designs to return to your initial position. Change the stitchout sequence of design layers or use Rearrange in combination with Group & Ungroup for further editing possibilities. With the Endless Embroidery function, you can easily repeat and align embroider designs to make continuous borders.
SMART EMBROIDERY TECHNOLOGY EVEN SMARTER
Perfect becomes superb
Another increase in embroidery speed
Even better stitch quality
Thanks to the BERNINA stitchprecision2 Technology, the already enhanced BERNINA Embroidery Module with Smart Drive Technology (SDT) is even faster and the stitch quality even more superior.
Product brochure – All information at a glance
Copy and Paste Link in browser to see more from Bernina!
https://www.bernina.com/Bernina/media/products/Sewing,%20Quilting%20and%20Embroidery/BERNINA%207%20Series/BERNINA%20790%20PRO/Brochures/B790-PRO_brochure_A4_EN-US_low-res.pdf